The BY-M100D is the wireless, battery-free,  tiny microphone from Boya, specifically designed to plug into the lightning port of any IOS device. The BY-M100D powers itself of this device's battery, meaning no external battery or charging times are required for the microphone to function. This results in a completely wireless audio experience that is available anytime, anywhere, making this a fantastic piece of kit for bloggers and journalists who are constantly on the go and moving around. This microphone features an omnidirectional polar pattern that is capable of capturing audio from all directions! The BY-M100D is perfect for all streamers, gamers, and YouTubers as this mic can be plugged into PCs, laptops, phones, cameras, and camcorders to cover any audio that may be required. 
- Polar Pattern: Omnidirectional
- Extremely lightweight 
- Signal to noise ratio: 65dB
- Connector: Lightning Port  
- No wires 
BOYA BY-M100D Compact Omnidirectional MFI Certified Microphone for Lightning Devices

BOYA BY-M100D Compact Omnidirectional Microphone for iPhones and IOS Devices
Suitable for any iPhone or Apple device with a lightning port, ensure you get the best quality audio with this ultra-compact condenser microphone from BOYA. BOYA BY-M100D is a miniature size, omnidirectional MFi certificated Lightning microphone for iPhone, iPad, iPod perfect for traveling or on location work due to its compact size. Not compromising on quality, this microphone has an omnidirectional polar pattern with a signal-to-noise ratio of 65 dB, which is a significant improvement to standard built-in microphones on devices. The power for this microphone is supplied by the iOS/ Lightning compatible device that supports iOS 10 or later, meaning that no batter is required for this microphone to work. With the plug and play operation, check your audio in real-time to ensure high standards throughout your recordings!
MFI CERTIFIED: quality assured and built to last, the MFi cable is tried and tested to industry standards to work efficiently with any Apple device you require.
---
The Main Features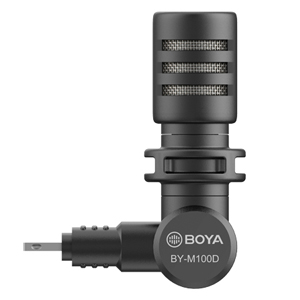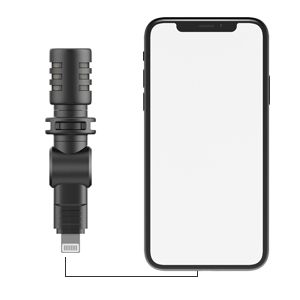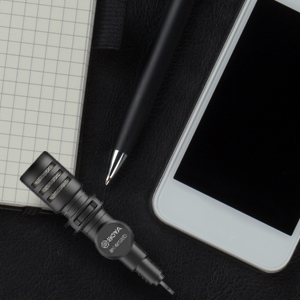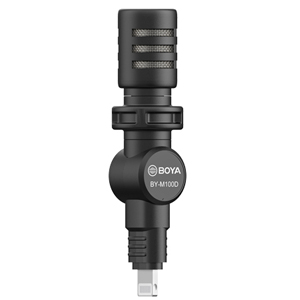 180 Degree Rotating Head
Convenient for capturing audio, the BY-M100D has a 180-degree rotating head to ensure you get the best quality audio recording capabilities. Tailor the microphone to the needs of your recording with ease, perfect for TikTok, Instagram, Facebook live streams!
Plug and Play Operation
Whilst recording audio, utilize the plug and play operation to check your audio quality in real-time!
Compact
Due to the compact nature of this microphone, it's great for taking on the go – never miss an audio recording opportunity again.
iPhone Microphone
This microphone is specifically designed to be inserted into the lightning port of IOS devices, meaning that you can capture high-quality audio straight from your iPhone, iPad, or Ipod.
---
Specifications 
| | |
| --- | --- |
| Brand  | Boya  |
| Model | BY-M100D  |
| Colour  | Black |
| Polar Pattern  | Omnidirectional |
| Output | Lightning Port  |
| Signal to Noise Ratio  | 65dB |
| Net Weight | 9.5g |
---

Lencarta In House Repair Centre
At Lencarta, we know how important it is to provide the best after-care and customer service. That is why we are proud to boast our very own in-house UK repair centre that is available to anyone needing a repair. 
Boya BY-M100D Condenser Microphone
Foam Windscreen
User Manual 
We found other products you might like!