Special Price
£21.60
£18.00
you save: £2 (9%)
Was
£23.75
Fastest delivery: Tomorrow, 24 May, 2022 (Tuesday)

Standard delivery: 26 May, 2022 (Thursday)
Same day dispatch on all orders placed before 03:00 PM Mon-Fri. (*Excluding UK Public/Bank/Festival holidays.)
The BY-M100 is the wireless, battery-free,  tiny microphone from Boya. The BY-M100 plugs directly into your headphone jack of any device and powers itself of this device's battery. This results in a completely wireless audio experience that is available anytime, anywhere, making this a fantastic piece of kit for bloggers and journalists who are constantly on the go and moving around. This microphone features an omnidirectional polar pattern that is capable of capturing audio from all directions! The BY-M100 is perfect for all streamers, gamers, and YouTubers as this mic can be plugged into PCs, laptops, phones, cameras, and camcorders to cover any audio that may be required. 
- Polar Pattern: Omnidirectional
- Extremely lightweight 
- Signal to noise ratio: 65dB
- Connector: TRS 
- No wires 
BOYA BY-M100 Miniature Wireless Condenser Microphone

BOYA BY-M100 Miniature Wireless Condenser Microphone | Smartphone | PC | Laptop | DSLR Camera  
This miniature condenser microphone from BOYA plugs straight into your smartphone, PC, laptop, DSLR camera, camcorder, or recording device to produce high-quality audio. With a 180-degree rotating design, it makes capturing audio easy and convenient. Adding a small microphone can boost the audio quality of the signal-to-noise ratio to 65 dB, which is a great increase from the standard inbuilt camera microphone. With a 50Hz to 18kHz frequency response, this microphone ensures that all frequencies are captured to a good standard. Due to its plug-and-play operation and no battery-required design, the BY-M100 is the perfect audio solution for travel.
---
The Main Features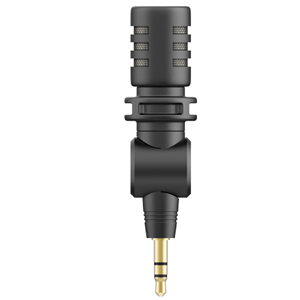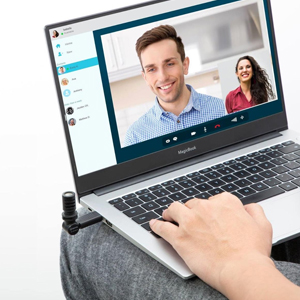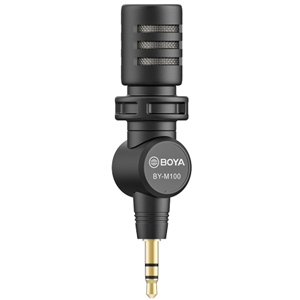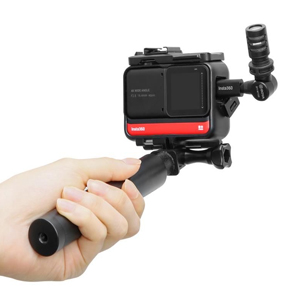 Omnidirectional Polar Pattern
The BY-M100 features an omnidirectional pick-up pattern which enables you to capture a broad audio spectrum in close proximity.
Convenient Audio Capture
180-degree rotating head, convenient for capturing audio in vast spaces to maintain constant levels of audio quality. With an omnidirectional polar pattern, this microphone captures audio from every direction. 
3.5mm TRS
Simply plug the 3.5mm TRS connector into your recording device's audio input jack, turn the microphone toward the subject and then test a short audio segment to ensure that the microphone is recording correctly.
Compact Design
 The compact design of this microphone means that there is a low payload on top of the phone or camera allowing it to be used for longer periods of time. Its small design makes it convenient for travel or recordings on the go. 
---
Main Features
Wireless Design
The BY-M100 features a fully wireless design, meaning that neither you nor your work, is tied down by cables or power sockets. Simply plug this device into any headphone jack and you are good to go. 
No Battery Required
This microphone powers itself off any connected device's battery or power supply, meaning that you don't have to worry about charging with this microphone. This makes it perfect for long streams or recording sessions. 
Omnidirectional Polar Pattern
The BY-M100 features an omnidirectional polar pattern that will pick up sound from any direction, This makes this microphone a great choice for musicians and journalists who want to pick up all available audio from multiple sources. 
Lightweight and Compact 
This microphone weighs only 9.5g and sizes in at no larger than a finger. This makes it an essential piece of kit during travel or for on-the-go journalists or bloggers who need high-quality audio. 
Complete Audio Kit
This microphone is accompanied by a furry windshield for outdoor recordings, as well as a handy carry case for traveling. 
Specification
| | |
| --- | --- |
| Brand | Boya |
| Model | BY-M100  |
| Colour  | Metallic |
| Polar Pattern  | Omnidirectional  |
| Connector | TRS |
| Signal to Noise Ratio  | 65dB |
| Net Weight | 9g |
---

Lencarta In House Repair Centre
At Lencarta, we know how important it is to provide the best after-care and customer service. That is why we are proud to boast our very own in-house UK repair centre that is available to anyone needing a repair. 
More Information

| | |
| --- | --- |
| Brand | BOYA |
BY-M100 Miniature Microphone 
User Manual 
Delivery Information
Lencarta makes every effort to get your order to you as soon as possible. Regular orders for in-stock items placed on business days before 3:00 PM and dispatch the same day.
UK Delivery Summary
| Shipping Option | £0.00 - £49.99 | £50.00 - £149.99 | £150.00+ |
| --- | --- | --- | --- |
| UK Standard 2-3 Working Days | £4.99 | £2.99 | FREE |
| UK Next Working Day | £7.99 | £5.99 | £4.99 |
| UK Next Working Day Pre-11am | £14.99 | £17.99 | £14.99 |
| UK Saturday Delivery | £21.99 | £24.99 | £21.99 |
---
International Delivery Summary
Shipping Option
£0.00 - £49.99
£50.00 - £149.99
£150.00+
International Standard Delivery
£18.99
£21.99
£18.99
International Expedited Delivery
£25.99
£28.99
£25.99
International Air Delivery
£41.99
£47.99
£41.99
Order processing and more.., click here.
---
Returns
Any item may be returned within a 30 day returns period, starting from the day the goods are marked as 'delivered' by Lencarta's courier. Any and all goods must be as new and in a fully working, saleable condition. For Exchange queries, please get in contact with a member of our fantastic team who can help you!
For more informations about Returns, please click here.
We found other products you might like!