*Please Note: The device should be loaded onto the gimbal before it is turned on to avoid damage to the product. Camera NOT included. 
This is the Feiyutech G6 Max, a powerful, ergonomically designed 4-in-1 gimbal stabiliser, designed with the traveler in mind! With a lightweight and wireless body, exceptionally long battery life, and user-friendly display, the G6 MAX is the perfect addition to any traveler's or photographer's kit bag! The G6-MAX is also fully compatible with the Feiyutech App, meaning that you can control and adjust your gimbal straight from your phone. This gimbal weighs in at only 665g, yet can take up to 1.2kg of weight, making it a suitable gimbal for any camera, camcorder, smartphone or recording device! As a gimbal that works with any form of a recording device, including apple or android smartphones, this item can meet anybody's needs! 
GRADE A: This product Is a grade A refurbished item. It has been used with minimal signs of use if any. Comes complete with original packaging and box contents. This Gimbal is a refurbished item and may come with light marks. This product comes with 12 months warranty.
- Battery Life: Up to 9 Hours 
- Easy To Use
- Supported by the Feiyuapp
- Light and Portable (665g) 
- User Friendly
[AS NEW] FeiyuTech G6 Max Handheld 4 in 1 Gimbal Stabiliser

Feiyutech G6 Max
*Please Note: The device should be loaded onto the gimbal before it is turned on to avoid damage to the product. Camera NOT included.
This is a Grade A Refurbished Item and so it is not new. 
Built with an ergonomic handle design, the G6 MAX is one of the lightest weight gimbals on the market. A universal gimbal, the G6MAX is almost guaranteed to support your camera or device as long as it is within the payload dimensions. With numerous cables included (See what's in the box), you are able to control nearly every feature via the palm of your hand! No need for any more apps!
The G6 MAX is a multi-functional and user-friendly gimbal stabilizer capable of capturing those special memories and, no matter the occasion. Wanting to start your own vlogging or adventure channel; or your very own videography studio with something small, easy on the hand, and capable of lasting the entire day of shooting? Then the G6 MAX allows you to unlock all of those possibilities in one, tiny gimbal. Featuring an extremely simple design with numerous accessory 1/4" screw threads for screens, smartphone holders, and more, the G6 MAX is capable of any job with your own, personalized open-source body.
---
Who is this perfect for?
This is a great choice for anyone who wants to shoot stable video using their compact camera, mirrorless camera, smartphone, or action camera. The G6 Max is the perfect gimbal for anyone who wants to shoot video, using the same gimbal, with different camera types at different times.
Who is this not perfect for?
This gimbal is not going to be perfect for anyone who uses cameras that weigh over 1.2kg. 
Perfect for people who:
Use multiple camera types
Need something compact, lightweight, and portable
Use lighter camera types
Not Perfect for people who:
---
---
The Main Features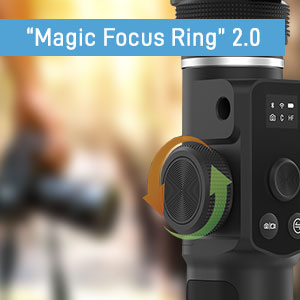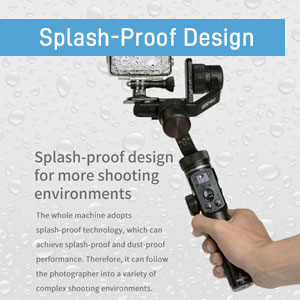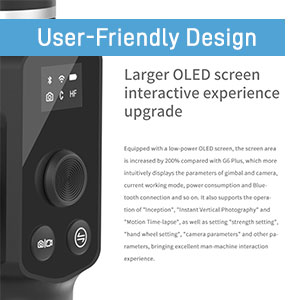 Multi-Function Focus Ring
The multi-function magic focus ring 2.0 offers a 25% increase in sensitivity. It delivers support and control of the three-axis rotation, and zoom/focus whilst controlling adjustments of key parameters including white balance, ISO, and exposure.
Splashproof Design
The G6 Max adopts a new splashproof technology allowing you to use the gimbal in different locations without having to worry about water droplets on the gimbal. Although not waterproof, the G6 Max can take the spray of the ocean with ease.
User-Friendly Design
The screen size has increased by 200% from its predecessor the G6 plus, making the overall user experience easier than ever. Display options include the parameters of the gimbal and camera.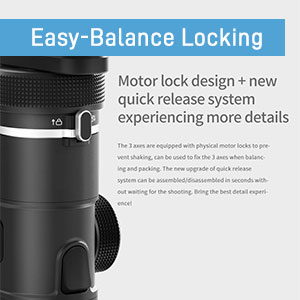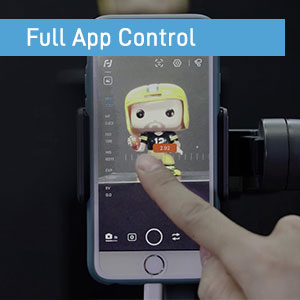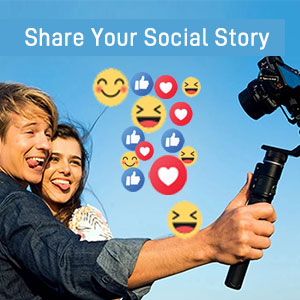 Easy Balance Locking
Each axis of the G6 Max is equipped with physical motor locks. These new motor locks can be used to make balancing faster and easier whilst offering protection to the gimbal during transport. No more need for 3 hands whilst balancing!
Full App Control
Via the FeiyuON App, the G6 MAX can be fully controlled via your mobile smartphone device to remotely move the motors, set the motor strength, hands-free shooting, and more! The FeiyuON App will save all of your images and videos directly to your device!
Produce Cinematic Videos
The G6 Max understands your desire to be unique and share your amazing content on social media! This lightweight gimbal stabiliser will definitely help you. With the user-friendly FeiyuON app, you can easily produce and edit cinematic videos and share them directly to your chosen platform instantly! Be the viral superstar among your friends!
---

---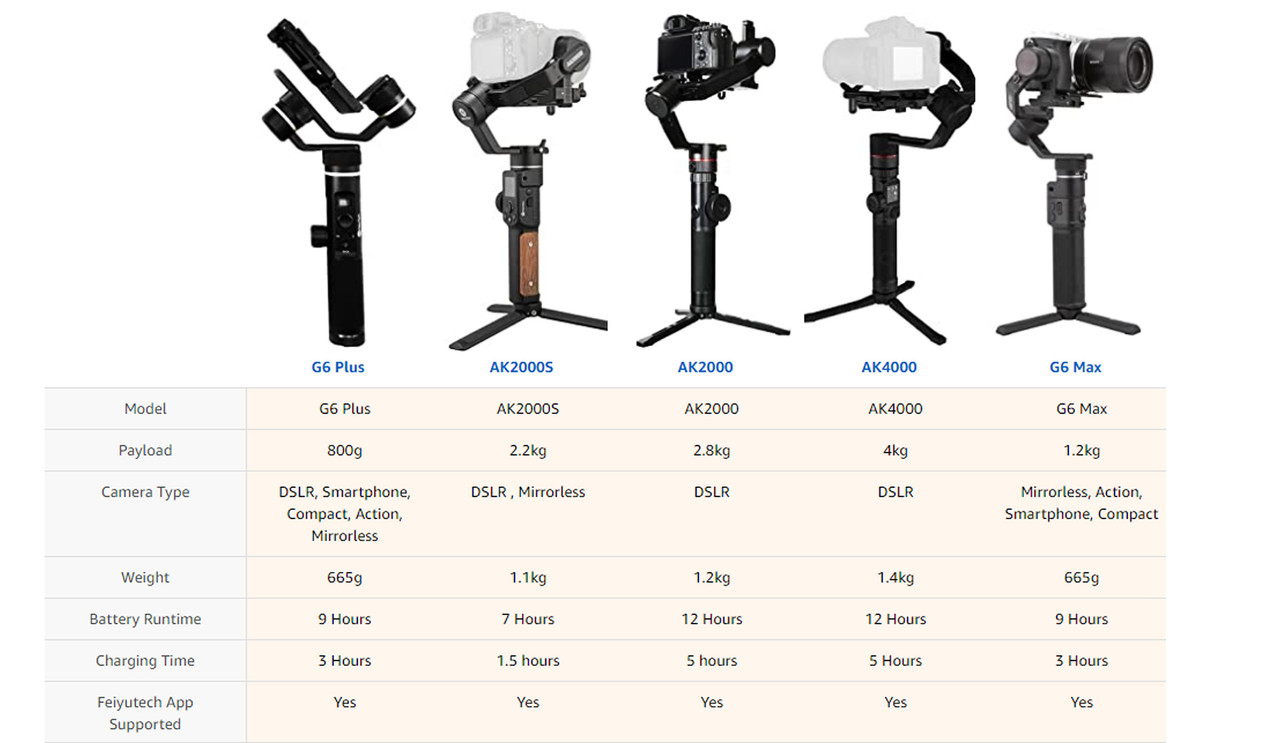 ---

Lencarta In House Repair Centre
At Lencarta, we know how important it is to provide the best after-care and customer service. That is why we are proud to boast our very own in-house UK repair centre that is available to anyone needing a repair. FeiyuTech products bought from us come with a 1 year warranty included! Find out more here.
1 х FеіуuТесh G6 Мах Gіmbаl
1 х UЅВ Туре-С Саblе
1 х Асtіоn Саm Аdарtеr
1 х Lоng Ѕсrеw
1 х Ѕmаrtрhоnе Аdарtеr
1 х Ѕоnу Ѕhuttеr Саblе (UЅВ Туре-С tо Мultі Роrt)
1 х Раnаѕоnіс Ѕhuttеr Саblе (UЅВ Туре-С tо 2.5mm DС)
1 х Тrіроd
1 х Саrrу Ваg
&nbsp&nbsp Frequently Asked Questions and Answers
---
&nbsp&nbsp Ask a question