In stock
(Over 28 Available)
Fastest delivery: 30 November, 2021 (Tuesday)

Standard delivery: 02 December, 2021 (Thursday)
Same day dispatch on all orders placed before 03:00 PM.(*mon-fri)
Compatible with the latest X-series flash systems, the Lencarta WaveSync provides a simple solution to photographers needing a quick and easy to learn triggering system. Compatible with most of the latest cameras and leading brands, the WaveSync gives access to the entire current Lencarta range of lighting, as well as the latest Godox systems including the Godox AD1200Pro and Godox AD300Pro. By holding the <SET> button, the WaveSync is capable of switching between both Decimal power and Fractional power modes for older and more recent flash heads respectively. The WaveSync can be easily coupled with both the Godox X1R and XT-16/WaveSync USB Receivers or built-in X-Series flash receivers.
Transmission: 2.4Ghz
Range: 100m / 328ft
HSS/TTL Enabled: No
Powered By: 2x AA Batteries
Brand: Lencarta/Godox
Mode: Decimal/Fractional
Lencarta WaveSync 2.4G Wireless Radio Trigger (Godox XT-16)

The Lencarta WaveSync 2.4 Trigger For Hotshoe Cameras
Control flash heads individually or in groups with the WaveSync 2.4 Trigger, adjust the power in 1/10th stop increments, turn the modelling lamp on/off, turn the beep on or off and test fire the flash.
This product is the trigger only for the receiver please click here. For the full set please click here.
Using the same body as the predecessor WaveSync Commander, the WaveSync 2.4 Trigger runs off of the Godox 2.4GHz RF Radio System, meaning as well as being compatible with all of our flash units and the 2.4 GHz Receiver, the WaveSync 2.4 is also compatible with: 
The Godox Witstro AD180
The Godox Witstro AD360
The Godox Witstro AD180II
The Godox Witstro AD360II
The Godox Witstro AD600BM
The Godox Ving V850II
And many more.
---
The Main Features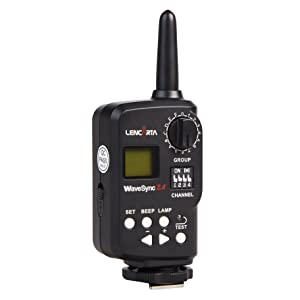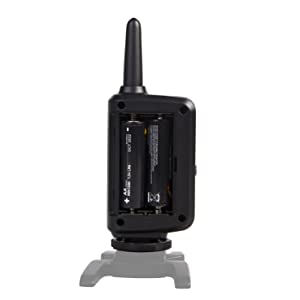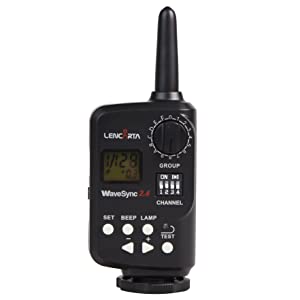 Radio Trigger Control
The radio trigger control features a user friendly operating system which allows you to easily make adjustments to your power settings, simply turn the dials no the trigger.
16 Seperate Channels
You can control multiple flash heads through this transmitter by simply adjusting the dials on both the transmitter and receiver, you have an option of 16 separate channels.
50m Range
Subject to environmental conditions, this trigger has a 50m range meaning you can get a great shot from a distance.
---
Specification
| | |
| --- | --- |
| Dimensions | 15x4x6cm |
| Weight | 50g |
| Frequency | 2.5GHz |
| No. of Channels | 32 |
| No. of Groups | 16 |
| Brand | Lencarta |
---

Lencarta In House Repair Centre
At Lencarta, we know how important it is to provide the best after care and customer service. That is why we are proud to boast our very own in-house UK repair centre that is available to anyone needing a repair. FeiyuTech products bought from us come with a 2 year warranty included! Find out more here
More Information

| | |
| --- | --- |
| Brand | Lencarta |
| Camera Type | Universal |
| Trigger Frequency | 2.4GHz |
| Trigger Type | Lencarta WaveSync |
| Camera Brand | Canon |
What's in the box?
1x  Wavesync 2.4Ghz Trigger
Delivery Information
Lencarta makes every effort to get your order to you as soon as possible. Regular orders for in-stock items placed on business days before 3:00 PM and dispatch the same day.
UK Delivery Summary
| | | | |
| --- | --- | --- | --- |
| Shipping Option | £0.00 - £49.99 | £50.00 - £149.99 | £150.00+ |
| UK Standard 2-3 Working Days | £4.99 | £2.99 | FREE |
| UK Next Working Day | £7.99 | £5.99 | £4.99 |
| UK Next Working Day Pre-11am | £14.99 | £17.99 | £14.99 |
| UK Saturday Delivery | £21.99 | £24.99 | £21.99 |
---
International Delivery Summary
Shipping Option
£0.00 - £49.99
£50.00 - £149.99
£150.00+
International Standard Delivery
£18.99
£21.99
£18.99
International Expedited Delivery
£25.99
£28.99
£25.99
International Air Delivery
£41.99
£47.99
£41.99
Order processing and more.., click here.
---
Returns
Any item may be returned within a 30 day returns period, starting from the day the goods are marked as 'delivered' by Lencarta's courier. Any and all goods must be as new and in a fully working, saleable condition. For Exchange queries, please get in contact with a member of our fantastic team who can help you!
For more informations about Returns, please click here.