The FG-40 Cold Shoe Handheld Adapter for Speedlight Flashguns from Godox is an ergonomically designed strong and durable rubberised grip with a metallic adjustable shoe. The FG-40 can universally fit all shoe flashguns in varying sizes and brands via the reinforced adjustable shoe. With a comfortable rubberised grip, the FG-40 will not easily slip from your grip even in the wettest weather.
Adjustable Cold Shoe
Reinforced Metallic Shoe
Rubberised Grip
Universal Fit
Underneath Spigot Stand Mount
Godox FG-40 Handheld Cold Shoe Handle Grip

Godox Hotshoe Flash Grip
AN OVERVIEW :
This flash grip is the perfect product for any photographer who photographs with portable lighting. It has multiple functions which can make the overall shooting experience easier for the photographer. On top of the handle is a removable hot shoe mount where you can mount speedlites or any other products with a hot shoe mount. You can then remove this mount and underneath is a spigot where you can attach products that have a standard ¼" tripod screw thread. At the bottom of the grip handle is an option to mount the product onto a light stand allowing extra support for the product. The grip has been designed with a comfortable anti-slip surface making it fit comfortably in the photographer's hands.
---
The Main Features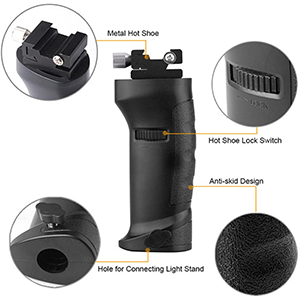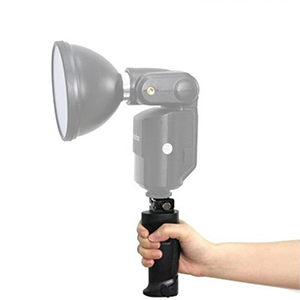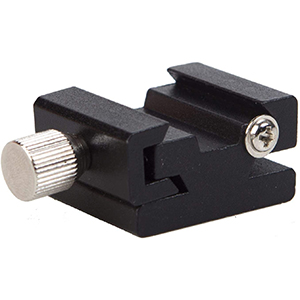 Completely Compatible
The FG-40 is completely compatible across large, small and compact light stands and flashguns.
Reinforced Rubber Grip
With a reinforced rubber grip, the handle is ergonomic and easy on the hands, meaning very little strain is on the wrist.
Adjustable 
The adjustable hotshoe gives the grip the universal name. Made from metal, it is incredibly tough and strong.
---
SPECIFICATION :
BRAND: Godox
MODEL: FG-40
WEIGHT: 140g
LENGTH: 15cm
WIDTH: 4cm
DEPTH: 6cm
PRODUCTS IN IMAGES NOT INCLUDED ONLY FLASH GRIP
---

Lencarta In House Repair Centre
At Lencarta, we know how important it is to provide the best after care and customer service. That is why we are proud to boast our very own in-house UK repair centre that is available to anyone needing a repair. FeiyuTech products bought from us come with a 2 year warranty included! Find out more here
What's In The Box?
1x FG-40 Cold Shoe Handheld Grip