The ever popular RedLine Pro Profold folding softbox range is designed with a solid steel construction, thick, top quality wall and anti-yellowing diffusion materials and a swift, simple opening mechanism. Much like an umbrella, the Profold range can be erected and deconstructed within seconds, making this the perfect kit for on location shoots, as well as studio work. This softbox was designed by photographers for photographers with usability and ease in mind. The Profold softboxes are fitted with an interchangeable speedring, meaning should you decide to swap your equipment from one brand to another, you do not need to buy a whole new range of modifiers! Each softbox comes with their very own 3 year warranty and are built for quality and results.
- Size: 95cm
- Diffusers Included: Yes, Inner and outer.
- Honeycomb Included: No, sold seperately.
- Opening Mechanism: Umbrella Profold
- Nylon Carry Case and Bowens S-fit Speedring Included.
RedLine Pro Profold Folding Octa Softbox | Lencarta | 95cm

RedLine Pro Profold Folding Octa Softbox | Lencarta | 95cm | Studio Lighting Equipment 
Softboxes are often considered to be the ideal tool for creating soft light because they combine the soft, diffused light effect of a shoot-through umbrella with the more controlled, directional (but harsher) light of a reflective umbrella. But traditional softboxes do have a major disadvantage, because, when used in the home or when they are transported, they need to be taken apart and reassembled, which can be very time consuming and sometimes difficult. As part of the Lencarta Profold range, this softbox is able to pop up and down in seconds!
With a strong build quality and an umbrella opening mechanism, the Lencarta Profold range is a must have for any photographer. The abaility to pop this item up and down in seconds makes this the perfect option for any on the move photographers. But where this softbox excels in ease, it does not lose any of the quality needed, meaning that the Lencarta 95cm Profold Octa will provide exceptional lighting both on the go and in the studio. 
---
---
The Main Features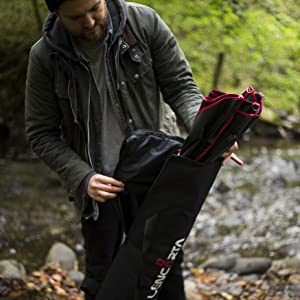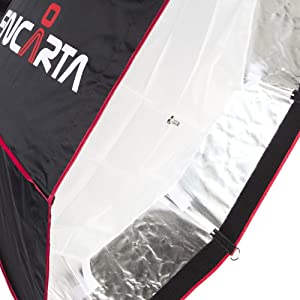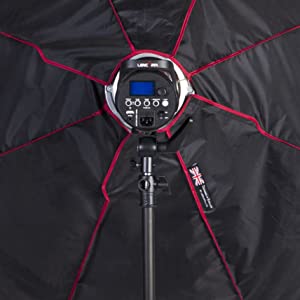 Umbrella Pop Up Setup
The opening mechanism includes a deflector plate, this restricts the light in the centre of the softbox and directs it towards the softbox walls, which creates extremely even and consistent light quality across the entire front diffuser. The setup is very easy and is similar to that of an umbrella.
Diffuser Included
This softbox comes with both an inner and an outer diffuser, making this product a versatile solution to light modification. Both diffusers can be attached quickly and hassle free to create a softer lighting option!
Bowens Fit
This softbox is fitted with a Bowens S-Fit speed ring, meaning that it works perfectly with any flash head with the same fitting! Additional speed rings can be purchased to adapt this product to other fittings, such as the Profoto, Elinchrom or Broncolor  Fit.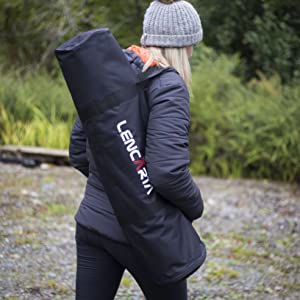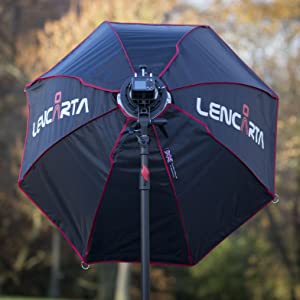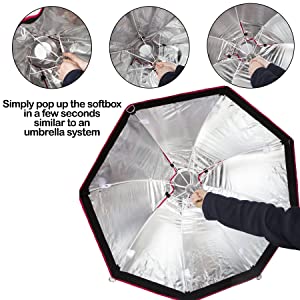 Included Carry Bag
This softbox is accompanied by a handy carry bag to aid transport. Being both lightweight and portable means that this softbox is perfect for use both in the studio, as well as on location shoots!
Robust and Flexible
The solid steel construction of this product makes it highly robust and durable! This not only gives your product a long lifespan, but also protects the rest of your equipment used alongside the softbox.
Profold Pop-up Range
The Lencarta Profold Range is a selection of softboxes specifically designed to ease softbox assembly! This range functions in a similar way to an umbrella, meaning that it can be popped up or down in seconds!
---
Specifications
| | |
| --- | --- |
| Brand | Lencarta |
| Model | 95cm Profold Octa Softbox |
| Diametre | 95cm |
| Inner Surface | Silver |
| Mount Type | Bowens S-Fit |
---

Lencarta In House Repair Centre
At Lencarta, we know how important it is to provide the best after care and customer service. That is why we are proud to boast our very own in-house UK repair centre that is available to anyone needing a repair. Find out more here.
1 x Softbox 
1 x Inner diffuser 
1 x Outer diffuser 
1 x S-fit speedring (fitted)* 
1 x Carry bag