In stock
(Over 18 Available)
Fastest delivery: 08 December, 2021 (Wednesday)

Standard delivery: 10 December, 2021 (Friday)
Same day dispatch on all orders placed before 03:00 PM.(*Mon-Fri)
Ideal for whenever soft lighting is needed, the 85x85 Chiaro Softbox is perfect for portrait and small product photography. With a deeply recessed outer diffuser, the Chiaro Softbox is perfect for controlling light spill, especially when using it to light the background or to feather the light. Fitted with both an inner and an outer diffuser, this softbox can produce both soft lighting and a much harder, specular light. It takes only seconds to remove or replace the diffusers, which are fitted using hook and loop fastening.
Size: 85x85cm
Diffusers Included: Yes, Inner and Outer
Honeycomb Included: No
Opening Mechanism: Rod Assembly System
Nylon Carry Case and Bowens S-fit Speedring Included
Lencarta Chiaro Softbox | Lencarta/Bowens | 85 x 85cm

Lencarta Chiaro Softbox | Lencarta | 85x85cm
It takes only seconds to remove or replace the diffusers, which are fitted using hook and loop fastening. When used with no diffuser, the light is much more specular and "sparkly". This softbox can produce both soft lighting and a much harder, specular light. With a depth of 53cm, the design ensures that light is reflected around the walls of the softbox perfectly, to produce very even lighting at the front diffuser.

One of the important unique features of our new Redline Pro range of softboxes is that each has a D Ring fitted to 2 corners, this is essential when used outdoors and allows the softbox to be tied down safely, to prevent damage or injury caused by wind, we do not consider simply putting weights on the lightstand to be an adequate safety precaution. Paracord (or similar), fitted to each ring and tied off to a nearby tree, vehicle or similar and/or secured with tent pegs, is the professional solution

As with all our softboxes, the speedring is fitted with a locking nut, allowing the softbox to be rotated to the exact angle needed.
This is not a Pro-Fold Softbox
The Lencarta Chiaro comes with 

4 carbon fibre rods

, capable of bending and 

withstanding an extreme amount of pressure.

With a

 Square design

, the 85x85cm is able to provide smooth and even lighting effects when shooting.
The Lencarta Chiaro comes with everything you need

 including

 an 

inner and outer diffuser

With a

 simple set up system

, all 4 rods can be inserted into the mechanism within seconds without the need of screws or adapters.
---
The Main Features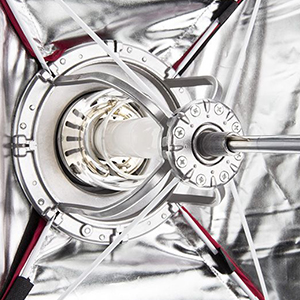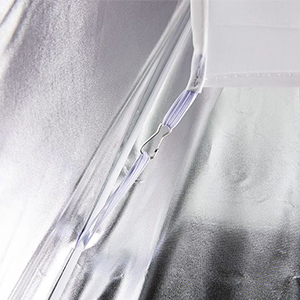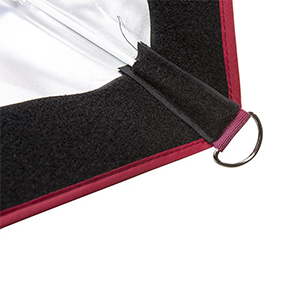 Rod Assembly Function
The Chiaro range of sotboxes are assembled by slotting in carbon fibre rods that give the softbox a strong and sturdy shape and structure. This is great for in-studio work as once assembled, this softbox can be used time and time again. 
Silver Reflective Surface
The UV-Coated silver reflective surface allows the light to bounce and create soft and even lighting effects across it's whole face. This allows for reliable lighting exactly when you need it.
D Rings
The D-Ring allows for you to tie down the softbox, one of the unique points of the softbox. This means should you be taking the softbox to a particularly windy beach, you can simply tie it down to keep your flash safe!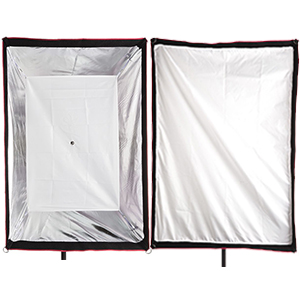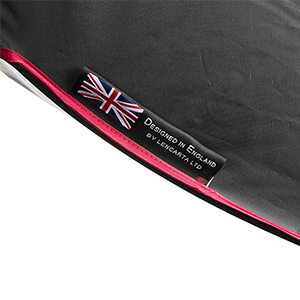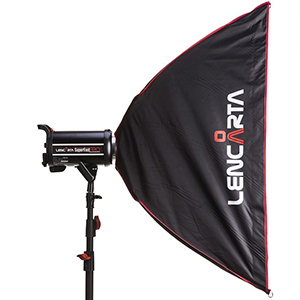 Included Diffusers
The included inner and outer diffuser are made from a high quality stain-proof material. This means you can use paints and power and rest easy knowing it will wash off. This softens the light and creates a more natural feel.
Made By British Photographers
The Profold Range is designed by Photographers for Photographers. We understand the need for perfect lighting whether for photography or videography. We are one of you!
53cm Depth
The deep depth of the Chiaro Softbox range means that the contrast of light is much more visible. This makes the lighting easier to control and means you can easily study and adjust where you need to.
---
Specifications
| | |
| --- | --- |
| Brand | Lencarta |
| Model | Chiaro 85x85cm |
| Size | 85x85cm |
| Inner Surface | UV-Coated White |
| | |
| --- | --- |
| Mount Type | Bowens S-fit Mount |
| Depth | 53cm |
| Weight | 1.25kg |
| Compatibility | Godox AD200, AD200Pro, AD400Pro, AD600Pro, AD1200Pro, S2 Mount, STR-1 Mount, Lencarta SmartFlash, SuperFast Pro and more... |
---

Lencarta In House Repair Centre
At Lencarta, we know how important it is to provide the best after care and customer service. That is why we are proud to boast our very own in-house UK repair centre that is available to anyone needing a repair. FeiyuTech products bought from us come with a 2 year warranty included! Find out more here
More Information

| | |
| --- | --- |
| Brand | Lencarta |
| Softbox Shape | Square |
| Softbox Type | Chiaro Softboxes |
| Speedring Fitting | Lencarta / Bowens S-Fit |
What's In The Box?
1x Outer Softbox Material
1x Inner Diffuser
1x Outer Diffuser
4x Metal Rods
1x Interchangeable Speedring Adapter
1x Lencarta/Bowens S-Fit Speedring
Delivery Information
Lencarta makes every effort to get your order to you as soon as possible. Regular orders for in-stock items placed on business days before 3:00 PM and dispatch the same day.
UK Delivery Summary
| | | | |
| --- | --- | --- | --- |
| Shipping Option | £0.00 - £49.99 | £50.00 - £149.99 | £150.00+ |
| UK Standard 2-3 Working Days | £4.99 | £2.99 | FREE |
| UK Next Working Day | £7.99 | £5.99 | £4.99 |
| UK Next Working Day Pre-11am | £14.99 | £17.99 | £14.99 |
| UK Saturday Delivery | £21.99 | £24.99 | £21.99 |
---
International Delivery Summary
Shipping Option
£0.00 - £49.99
£50.00 - £149.99
£150.00+
International Standard Delivery
£18.99
£21.99
£18.99
International Expedited Delivery
£25.99
£28.99
£25.99
International Air Delivery
£41.99
£47.99
£41.99
Order processing and more.., click here.
---
Returns
Any item may be returned within a 30 day returns period, starting from the day the goods are marked as 'delivered' by Lencarta's courier. Any and all goods must be as new and in a fully working, saleable condition. For Exchange queries, please get in contact with a member of our fantastic team who can help you!
For more informations about Returns, please click here.