This umbrella is fitted with a reflective mask to ensure that light produced by the umbrella is bounced back toward your subject to create an even more powerful light. The high quality design of this umbrella makes it great to use for a multitude of photography projects, as it's robust and features reinforced ringlets. Ideal for product photography and portrait photography due to the soft light that it creates.
- Size: 130cm
- 16 Rod Build 
- Reflective Mask 
- Heat Resistant Material
Lencarta 130cm Shoot-Through Deep Parabolic Umbrella | Mask Bundle

Lencarta 130cm Shoot-Through Deep Parabolic Umbrella with Reflective Mask
Boost the power of your 130cm Deep Parabolic Umbrella with the reflective mask which has been designed to bounce back any light that is reflected by the umbrella, this provides a more powerful yet still diffused light to come from the umbrella. Crafted with a thick heat resistant fabric, the level of quality and craftsmanship is noticeable with every feel. Made with strong reinforced ringlets.
This umbrella features a 

tough nylon outer surface

, capable of withstanding hard falls, deep scratches and more before physically becoming unusable.
The 

130cm 

shoot-through umbrella creates a 

soft, diffused light, 

which produces soft shadow transfer edges giving more of a 

glowing effect

.
The umbrella also comes with a 

carry pouch

 which is ideal for using on location or for storage.
---
The Main Features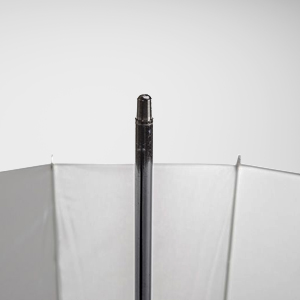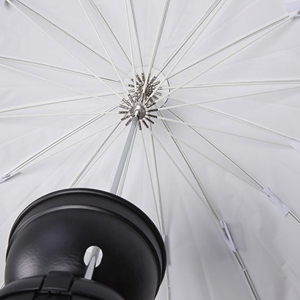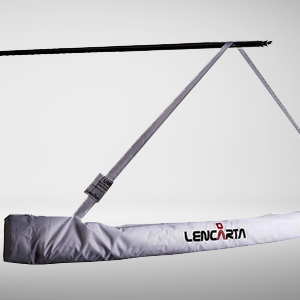 8mm Umbrella Rod
The 185cm Umbrella includes a 8mm radius rod which is the standard across the majority of photography brands. The rod is made from steel and can easily withstand heavy pressure from winds and slide into most adapters.
Compatibility
Our large shoot through umbrella will find a home in any studio, and thanks to its design will pack up small to save space when not in use. This product can even be used with a flash gun of any size or make, all you require is an adapter, this 130cm Deep Parabolic Umbrella will work great with a flash gun or a studio flash head.
Free Carry Pouch
A carry pouch is included to store your umbrella and keep it safe from any knocks and scratches. This makes it even easier to transport from place to place.
---
Specifications
| | |
| --- | --- |
| Brand | Lencarta |
| Material | Nylon |
| Interior Colour | Shoot-Through Diffused White |
| Exterior Colour | Shoot-Through Diffused White |
| Umbrella Shaft Diameter | 8mm |
| Diameter | 130cm |
| Depth | 51cm |
| Heat Resistance Rating | 1000w |
---

Lencarta In House Repair Centre
At Lencarta, we know how important it is to provide the best after care and customer service. That is why we are proud to boast our very own in-house UK repair centre that is available to anyone needing a repair. FeiyuTech products bought from us come with a 2 year warranty included! Find out more here