---
The compact yet powerful AD300Pro Outdoor Flash from Godox offers impressive performance and freedom for location or studio use. With its monolight form and weight of just 1.4kg, the flash is ready to travel. Its lithium-ion battery will give you up to 300 full-power flashes generally lasting a whole shoot, complemented by recycling times of 0.01 to 1.5 seconds. With a flexible 9-stop power range to find the exact exposure you require for your shot and high-speed sync times as short as 1/8000 second, the AD300Pro's action-stopping ability is on form with the latest flash strobes.
- 9-Stop Power Range 1-256 / 1-1
- High-Speed Sync up to 1/8000 sec
- Li-ion Battery support up to 300 Full Power Flashes
- Adjustable LED Modelling Light: 3000-6000K
- Includes Protective Carry Case
Godox AD300 Pro Portable Pocket Flash
Godox AD300 Pro Portable Pocket Flash | TTL | HSS | 300Ws Wireless Flash Head 
The AD300 Pro boasts all of the unique features of the Godox Wistro AD range, whilst offering a strong power output of 300Ws and maintaining its portable compact design. Unlike the AD200 / AD200 Pro, the AD300 Pro features a built-in fan, allowing you to shoot for longer whilst keeping that compact, pocket-sized shell. Featuring a circular round head design much like the AD600Pro and AD400Pro, the specialised glass protected flash tube allows you to achieve the most out of the 300Ws power of the AD300Pro.
The AD300 Pro is one of the most popular Godox flashes. This flash is perfect for anyone who needs something the size of a hot shoe flashgun with much more power. The AD300 Pro has a built-in 2.4Ghz Receiver making it completely controllable using one of the Godox X Series triggers. This flash is HSS and TTL enabled making it perfect for people shooting outdoors or on location. The interchangeable head allows you to use the classic speedlight type head or the bare bulb head for different lighting effects.
The AD300 Pro is perfect for any photographer interested in or specialising in wedding, event, fashion, portrait or product photography due to the high-quality build, and outstanding functionality of this flash. The wireless and lightweight nature lend the AD300 Pro to on-location shoots by making it an exceptionally portable unit. However, the power of the flash also makes it suitable for studio work, creating a versatile, all-rounder flash head.
---
The Main Features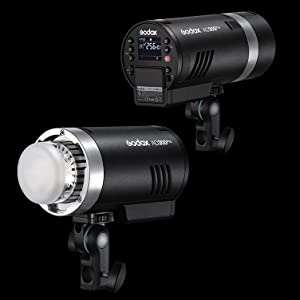 High-Contrast LCD User Interface
The AD300 Pro features a high-contrast display, meaning even on the brightest of days you can easily distinguish between the screens information and the background. The clear, user-friendly design makes it easier than ever for beginners, enthusiasts and professionals to access exactly what they need.
Strong Power + Bi-Colour Modelling Lamp
At 300Ws in such a small body, the AD300Pro is surprisingly powerful. The Bi-colour modelling lamp allows for full adjustment between 3000-6500K and 10 steps worth of LED powerful from 3W-30W. The AD300 Pro becomes a useful tool for product photography, videography and shooting.
Large Capacity Lithium Battery
The removable rechargeable lithium battery (14.4 V / 2600 mAh) offers 320 full-power flashes with a recycling time from 0.01 to 1.5 seconds. This enhanced battery, based on the AD200, makes various, strong improvements. 300W of power adjustable in 9 steps from 1/256 to 1/1.
Lens-Sized Portable Flash
The AD300Pro can fire up to 320 full power pops from one battery charge. Every time the power is halved the number of available flashes doubles! This powerful battery in itself can be recharged in up to 2 hours, meaning that your shoots can go on for longer and you can be set back up and ready to go again quickly.
Wireless and Portable 
With a compact and lightweight body boasting a weight of just 1.4kg, the AD300 Pro allows you to travel small and light whilst shooting on location. The AD300 Pro can easily fit into any pocket or backpack. This feature, paired with the wireless nature of the flash unit, make the AD300 Pro the perfect companion for all on-location shoots. 
Built With Protection In Mind
Included with the AD300 Pro is a portable carry case that allows for extra protection when stored or transported between shoots. All of the accessories included fit together inside the case which keeps all the equipment safely together.
---
Compatible Accessories
The BD-10 barn door and gel set are directly designed for Godox fit flash heads, namely the AD300 Pro and AD400 Pro. This piece of kit allows you to be selective with your lighting and create a range of artistic effects during your shoots. A honeycomb also accompanies this kit, providing a higher concentration of light and adding more directional control from your flash head.
Due to its Godox fit head, the AD300 Pro is not compatible with Bowens Mount modifiers. However, Godox has released a range of high-quality modifiers that fit perfectly onto the AD300 Pro. The AD-S85S and AD-S85W are two high quality and easily assembled softboxes designed to be portable and professional. With an umbrella opening mechanism and thick material build, these softboxes offer quick assembly function and a professional finish.
The AD300 Pro can be adapted to Bowens S-Fit through the use of the AD-AB mount and S2 bracket. These handy pieces of kit adapt your Godox fit flash head to any Bowens S-Fit modifiers, including our own Lencarta softboxes! This kit makes the AD300 Pro adaptable to your existing equipment, as well as allowing the Godox fit option where necessary.
---

---
At Lencarta, we know how important it is to provide the best aftercare and customer service. That is why we are proud to boast our very own in-house UK repair centre that is available to anyone needing a repair. FeiyuTech products bought from us come with a 2-year warranty included! Find out more here.
WHAT'S IN THE BOX?
1x Godox AD300 Pro Portable Pocket Flash

1x AD-E2 Stand Mount and Umbrella Bracket

1x Battery

1x Reflector & Cap

1x Flash Tube

1x Battery Charger

1x Battery Charger Cable

1x Hard-Kit Case

1x English User Manual

1x Chinese User Manual
&nbsp&nbsp Frequently Asked Questions and Answers
---
&nbsp&nbsp Ask a question