*Please Note: Device should be loaded onto the gimbal before it is turned on to avoid damage to product. Camera NOT included.
The Vimble 2A gimbal stabiliser is designed with you, the adventurer in mind. With an ergonomically designed handle and weight of just 277g, you won't even know you're holding the Vimble 2A for up to 10 hours of battery life! Featuring a 18cm extension rod, it's the perfect gimbal for those smooth vlog selfies whilst you ski down a mountain, skydive from miles above or skate across the city! Made with an automatic password saving feature, you only need to pair your gimbal and action camera once and you're good to go every time. With its new assisting balancing locks, it takes seconds to get going. Finally, new and improved, the Vimble 2A features a brand new housing locking system, meaning that no matter what happens, your Action Camera will never leave it's saddle on the Vimble 2A, no matter the action
- Adaptable: 1/4" Screw thread
- Battery Life: Up to 10 Hours
- Splash Proof: Yes
- Weight: 277g
- 3 Axis 360° Rotation
.
Feiyutech Vimble 2A Action camera Gimbal Stabilizer

Vimble 2A Gimbal Stabilizer
*Please Note: Device should be loaded onto the gimbal before it is turned on to avoid damage to product.
The Vimble 2a is a smart, ergonomic way of capturing your vlogging adventures. Capable of carrying the heaviest and largest of action cameras and controlling them wirelessly through an easy to use gimbal handle. The Vimble2a is a multi-functional, user friendly gimbal stabilizer capable of capturing those special memories, no matter the occasion. Wanting to start your own social media channel with something small, light-weight, cost-effective and subtle? Then the Feiyutech Vimble 2a allows you to unlock all of those possibilities in one body. Featuring an extremely simple design with numerous accessory screw threads, the Vimble 2a is everything you need to become a social media superstar!
---
Who is this perfect for?
The Vimble 2A Gimbal Stabilizer is perfect for travel and online blogging. The portable size allows for more convenient storage whilst the built-in, pop-up selfie stick allows for instant selfies. With its included tripod, you can catch those special moments without having to remove your smartphone! Compatible with Gopro HERO5/6/7 ,Control and compatible with YI 4K,SJ 6 LEGEND, RICCA, and compatible with other action camera with the weight less than 135g by changing the camera clip.
Who is this not perfect for?
The Vimble 2A is not waterproof, so will not be suitable for use in wet conditions. If you are looking for a splashproof and similarly designed, gimbal we would suggest the G6 Plus.
Perfect for people who:
Perfect for travel and online blogging

P

ortable size allows for more storage

Need a well designed professional gimbal.
Not Perfect for people who:
---
The Main Features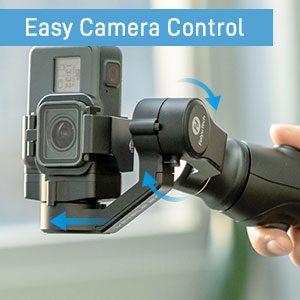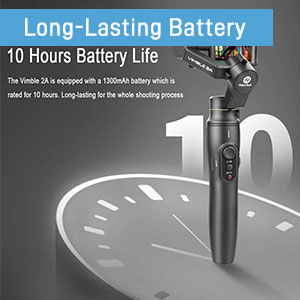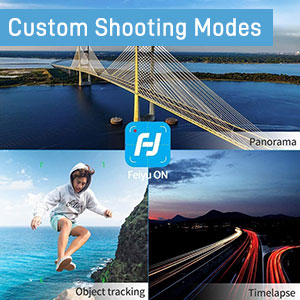 Easy To Use
With the various user-friendly handle mounted buttons, the attached action camera can be quickly switched between portrait or landscape shooting modes. Similarly, the camera can be quickly shot up to face the sky or the ground, meaning you lose none of the action!
Long Battery Life
The Vimble 2A features up to 10 hours battery life when using the gimbal with the highest payload possible. This means no matter how long you're out on your adventures, you will never need to worry about carrying an extra power pack for the Vimble 2A.
Custom Shooting Modes
The FeiyuON app gives your action camera the ability to gain access to AI enhanced features such as face tracking, slow motion, object tracking, panoramic panning, time-lapse and more! Want your action cam to focus on your face during a Kayak? Then the App can do that!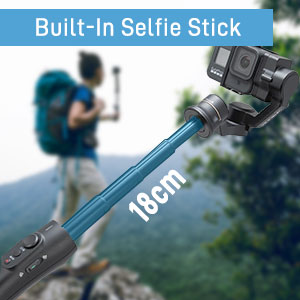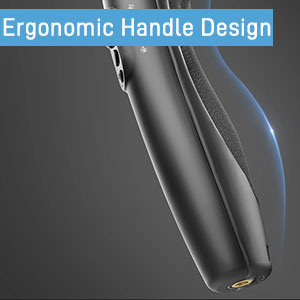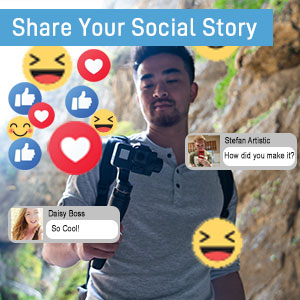 Built In Selfie Stick
The Vimble 2A features a built in 18cm extendable reach pole selfie stick. If you want to catch every bit of the action with a smooth, professional feel the Vimble 2A is the perfect choice to do just that. The Selfie Stick is reinforced on it's joined areas, meaning you do not need to worry about excessive force breaking the rod.
Ergonomic Handle Design
With comfort in mind, the Vimble 2A has been extensively tested to make sure that during that super long 10 hour battery life your hand is not suffering. The soft rubber grip means you can keep hold during a tough hike, rough kayak or bouncing boat trip. The gimbal's super light weight means that you can keep the gimbal high in the air almost stress-free.
Produce Cinematic Videos
The Vimble 2A understands your desire to be unique and share your amazing content on social media! This lightweight gimbal stabiliser will definitely help you. With the user-friendly FeiyuON app, you can easily produce and edit cinematic videos and share directly to your chosen platform instantly! Be the viral superstar among your friends!
---
---

Lencarta In House Repair Centre
At Lencarta, we know how important it is to provide the best after care and customer service. That is why we are proud to boast our very own in-house UK repair centre that is available to anyone needing a repair. FeiyuTech products bought from us come with a 2 year warranty included! Find out more here.
1x FeiyuTech Vimble 2A Gimbal
1x Mini Tripod
1x Micro USB Charging Cable
1x Anti-Loss Strap
1x Polyester Carry Bag