*Please Note: Device should be loaded onto the gimbal before it is turned on to avoid damage to product. Camera NOT included.
The AK2000S gimbal stabiliser  is a high quality build gimbal from Feiyutech! Boasting a max payload of 2.2kg (double its own weight!) and a usage time of 14 hours, this gimbal is perfect for videographers, photographer and online content creators. The AK2000S provides professional stabilisation which helps you create high level content for your business or project. For more information on this gimbal and it's compatability with certain camera types have a look through our gimbal compatibility guide. 
Weight: 1.1kg
Max Payload: 2.2Kg 
Waterproof Grade: None
Usage Time: 14 Hours
Charging Time: 1.5 Hours 
Feiyutech AK2000S Professional 3-Axis Mirrorless & DSLR Gimbal Stabilizer
The FeiyuTech AK2000S
*Please Note: Device should be loaded onto the gimbal before it is turned on to avoid damage to product.
Introducing the AK2000s gimbal for mirrorless and DSLR cameras, by Feiyutech. The AK2000s is made of ultra-light space-grade aluminium alloy, with a total weight of just 1.1kg, it is the perfect gimbal to use on location and is easy to carry. The new and improved grip has a rosewood handle finish allowing for extra comfort when using. The main difference between the AK2000s and the AK2000 is its 1.5-hour quick charging, 3 axis locking design, a detachable handle and also one touch to switch between portrait and landscape mode.
---
Who is this perfect for?
This is a great choice for anyone who wants to shoot stable video using their mirrorless camera and DSLR cameras. It is easy to carry and the perfect gimbal to use when on location.
Who is this not perfect for?
The AK2000S is not waterproof therefore it would not be ideal for someone who shoots in locations where it could rain or get wet. Alternatively, If you are looking for a splashroof, and similarly designed, gimbal we would suggest the G6 Max.
Perfect for people who:
Want to shoot stable videos
Use multiple camera types
Need something compact, lightweight and portable
Not Perfect for people who:
Shoot videos in rainy locations
---
The Main Features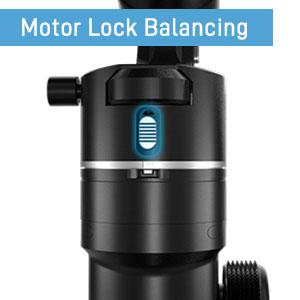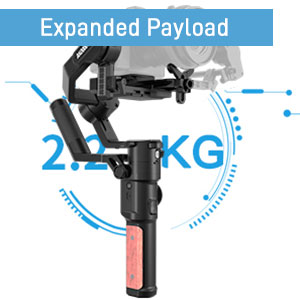 Motor Lock Balancing
The AK2000S much like the AK4500 features an ergonomic versatile arm design. This allows for the gimbal to be held over extremely long periods of time without putting undue pressure on joints. For the entire 14 hour active shooting time, you will barely notice the gimbal in your hands.
Ergonomic Arm Design
With an entirely new Motor locking design, much more advanced from the AK2000 model; you no longer require what feels like 3 hands to balance your gimbal! Simply adjust the motor arm as you would, lock the gimbal and move on to the next! The gimbal requires one simple set up and you're good on the same camera!
Expanded Payload
The AK2000S improves the payload capacity of the G6Max, bringing the overall capacity to 2.2KG. This allows a much larger expanse of DSLR, DSLM and compact cameras to be held by the AK2000S that is ever growing in it's compability.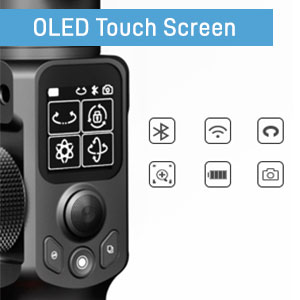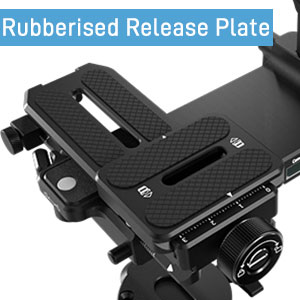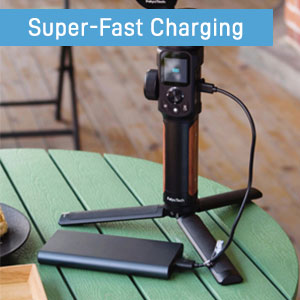 OLED Touch Screen
The AK2000S features a large OLED touch screen that allows you to swipe across various menus. Without the need of fiddly apps, you can control the entire functionality of the gimbal and camera directly from the handle. Without pressing buttons in which the audio can transfer to the camera, you need simply lightly tap the screen instead!
Rubberised Release Plate
With a rubberised release plate, your camera is securely fitted to the gimbal. The quick release plate allows you to take your camera from the gimbal in between shoots and safely store it. When you're ready to get shooting again, simply slot the plate back onto the gimbal and you're good to go without having to balance the gimbal again inbetween travels!
Super Fast Charging
The AK2000S features a USB charging design. As gimbals can take up to 4 hours to charge and even more, the AK2000S takes simply 90 minutes. The AK2000S can be charged directly from a compatible power bank and no longer features lithium-ion rechargeable batteries that are easy to lose! Everything is built in!
---
---
| | | | | | |
| --- | --- | --- | --- | --- | --- |
| | | | | | |
| Brand | Feiyutech | Feiyutech | Feiyutech | Feiyutech | Feiyutech |
| Model | AK2000S | G6 MAX | AK2000 | AK4000 | AK4500 |
| Maximum Payload | 2.2kg | 1.2kg | 2.8kg | 4kg | 4.6kg |
| Weight | 1.1Kg | 665g | 1.2kg | 1.4kg | 1.6kg |
| Usage Time | 14 Hours | 9 Hours | 12 Hours | 12 Hours | 12 Hours |
| Charging Time | 1.5 Hours | 3 Hours | 5 hours | 5 Hours | 5 Hours |
| Waterproof Grade | No | Splashproof | No | No | No |
---

Lencarta In House Repair Centre
At Lencarta, we know how important it is to provide the best after care and customer service. That is why we are proud to boast our very own in-house UK repair centre that is available to anyone needing a repair. FeiyuTech products bought from us come with a 2 year warranty included! Find out more here.