Offering an ultra-quiet fan, 300W worth of power, CRI of 95, and TLCI of 95, the VL300 is a professional solution to continuous Lighting by Godox! This light is supported by a U-Mount bracket, meaning that it is able to be easily mounted on most light stands, boom arms, and roof mounts, as well as being able to be rotated and maneuvered to create the desired effect! This light can be controlled locally, using the controller box, or remotely through the Godox app to create a versatile product. The VL300 features an ultra-quiet fan and so will not disrupt videography or photography shoots with load noises. This light is a Bowens S-Fit product and so is directly compatible with any Bowens fit modifier. This kit combines 2 VL300s with 2 gridded strip softboxes, 2 265cm light stands, a hard case carry bag and 2 12 month warranty extension cards.
Brand: Godox
Model: VL300
Power Outage: 300W
TCLI: 95
CRI: 96+
Mouth Type: Bowens S-Fit
Weight: 9,595g
Colour Temperature: 5600K
Powered By: DC adapter
Dimming Options: 100% to 0%
Godox Twin VL300 with Gridded 35x160cm Softbox

Godox Dual VL300 Kit with 35x160cm Strip Softbox, Carry Bag and 3 Year Warranty
The VL300 LED Video Light from Godox is a lightweight and compact LED light suitable for portraits, product, location and video-based applications such as interviews, cinematography. The daylight-balanced LED features an exceptionally high CRI rating of 96 and a TLCI rating of 95, producing highly accurate colour renditions and creating realistic colour tones. The VL300 sports an ultra-quiet fan which is perfect for videography and photography shoots alike! This fan means that your work won't be interrupted by loud ventilation systems. With a U-Mount Bracket, the VL300 can be easily mounted on most stands, boom arms and roof mounts, as well as allowing you to manoeuvre the unit in terms of direction and angle.
This kit combines 2 Godox VL300s with 2 gridded strip softboxes that allow enhanced directional control from your lighting units! Also included in this kit are 2x 265cm Lencarta light stands, a hard case carry bag for transport, and 2 12 month extended warranty cards that will, with the Godox warranty included, protect both of your lights for up to 3 years!
---
The Main Features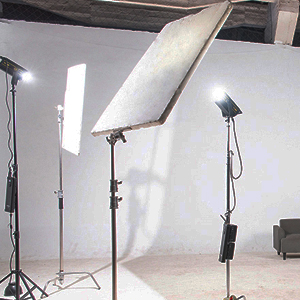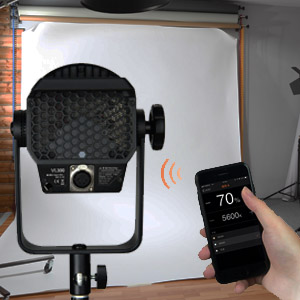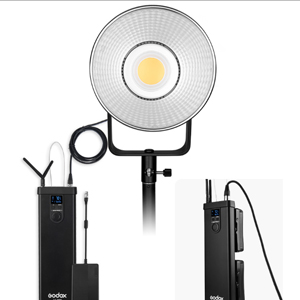 Flicker-Free Technology
The VL300 is a flicker-free lighting option, making it a perfect light for videography and photography. This feature means that you can shoot any framerate without worrying about flicker in your images.
Wireless Control
The VL300 comes with a wireless radio remote control that enables you to control the light. It also features Bluetooth which, enables you to control the light via the GODOX app. The GODOX app is free and is available on the App Store on iOS, and Google Play on Android.
Optional Power Supply
The VL300 is powered by DC power. However, Lithium batteries are available to make this light wireless, allowing users to power anywhere and reduce their weight load. The VL300 works wirelessly with 2 V-Mount Batteries are attached.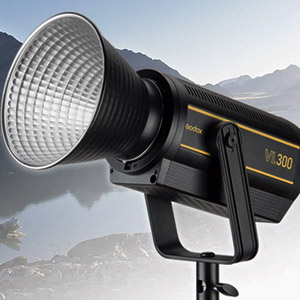 User-Friendly Interface
The controller box of the VL300 includes an LCD screen with a useful control dial interface. This control function allows you to increase and decrease the brightness of the light from 100% to 0%.
Gridded Strip Softbox
This kit includes 2 35x160cm strip softboxes with accompanying grids to enhance your control over direction and intensity with your lights! This function is suited to videography and photography alike and allows total control over the lighting you can create!
12 Month Warranty Extension Card
This kit comes with 2 12 Month Warranty Extension cards to keep both of your lights protected for up to 3 years! We are also proud to be the only official Godox repair centre in the UK, meaning that your products will be assessed and repaired by Godox trained technicians.
---

---

Lencarta In House Repair Centre
At Lencarta, we know how important it is to provide the best aftercare and customer service. That is why we are proud to boast our very own in-house UK repair centre that is available to anyone needing a repair. FeiyuTech products bought from us come with a 2 year warranty included! Find out more here.
https://i.postimg.cc/8P6qqKtZ/vl300banner.jpg%22i.postimg.cc
2x VL300
2x U-Mount Bracket
2x Mains Cables
2x 265cm Light Stands
2x 35x160cm Strip Softboxes
2x 35x160cm Honeycomb Grids
1x Hard Case Carry Bag
2x Warranty Extension Cards
&nbsp&nbsp Frequently Asked Questions and Answers
---
&nbsp&nbsp Ask a question