Boya BY-WM8 Pro-K2 Dual Transmitter 2.4G Wireless Clip On Microphone System
Special Price
£180.00
you save: £10 (5%)
Regular Price
£190.00

Boya BY-WM8 Pro-K2 2.4G Dual Wireless Clip-On Microphone System | Ultra High Frequency | Smartphone | PC | Camera
Effortlessly connect and record audio today. The BOYA BY-WM8 Pro-K2 Lavalier Microphone features an omnidirectional polar pattern to ensure natural recording of speech. Picking up sound from 360 degreases, this microphone reduces the risk of proximity effect which could compromise your records. This microphone system supplies two transmitters that connect to the same receiver, meaning that you can record audio from 2 separate sources simultaneously! This is a perfect feature for live performances, such as plays and musicals, talks, and interviews.
The BY-WM8 Pro-K2 features Ultra High-Frequency technology and an audio output of -60db. This UHF feature makes this kit perfect for indoor as a result of the shorter wavelengths produced (VHF radio signals are more likely to degrade indoors and produce lesser quality audio). This microphone also offers a locked plug mode that eliminates the accidental changing of settings during recordings, helping your shoots or live broadcasts run smoothly and effectively. 
With this ultra high-quality microphone, you are capable of capturing sound from all angles to guarantee an immersive industry-standard experience of sound for listeners. Perfect all-in-one solution for journalists, sound recordists, social media, and vloggers due to its portable nature, it's a great on-the-go system! With the 3.5mm jack on the receiver, check your audio in real-time to ensure the quality of the sound to your desired standard. This jack also allows you to plug into any device with a headphone jack, including smartphones, PCs, laptops, DSLR cameras, and camcorders.
---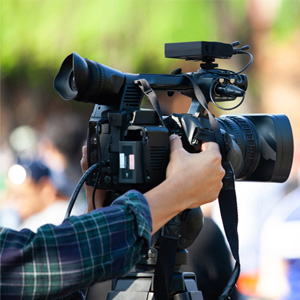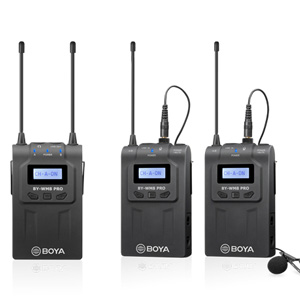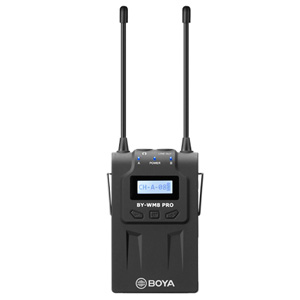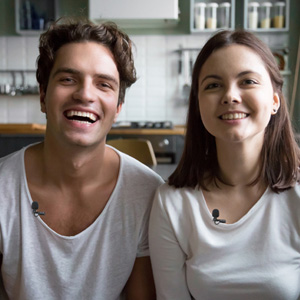 User Friendly
This Lavalier Microphone system from BOYA features a user-friendly menu operation with more control options to give you freedom with sound recording. Tailor the settings specific to your needs to achieve industry-standard quality!
Accessories
Included with the microphone is a range of accessories which makes it perfect for any project! Package includes 1 receiver, 1 transmitter, omnidirectional lavalier microphone, shoe mount adapter, 2 output cables, and a carry case!
Mono/Stereo Mode
Get the ultimate wireless lavalier microphone pack for content creators with this dual-channel wireless receiver! With adjustable MONO and stereo mode for easy and convenient switching.
High Quality
Get broadcast-quality sound with this lavalier microphone with a transmission range of up to 100 meters! With up to 48 selectable channels, there's no need to worry about interference with other receivers.
---
Main Features
Dual Transmitter | One Receiver
The BY-WM8 Pro-K2 offers two transmitters for every receiver. This means that this microphone is capable of recording two sources at the same time, making this kit perfect for interviews, live performances, and conferences. More transmitters can be added as is necessary. 
Ultra-High Frequency | UHF
This microphone features an Ultra High Frequency which is perfect for work inside. The shorter wavelengths don't degrade indoors like other frequencies and they are better at penetrating materials. This makes this microphone a great addition for podcasters, live streamers, YouTubers, and performers. 
100m Transmission Range
The BY-WM8 Pro-K2 has a transmission range of up to 100m. This allows for full movement when in use! This, when paired with the hands-free capabilities, make this a fantastic mic for any video tutorial maker or live act as it gives you full use of your hands and also allows you to move around freely. 
Two Year Warranty
This microphone comes with a two-year warranty, meaning that if anything goes wrong, it will be repaired or replaced at our repair technician for free within this period.
---
Compatible With
Smartphone Compatibility
The BY-WM8 Pro-K2 is fully compatible with smartphones, including Android and IOS devices. This microphone features a 3.5mm port, as well as a 3.5mm cable that fits all headphone jacks. This allows you to capture crisp and high-quality audio on your mobile device.
DSLR Camera Compatible
This microphone is fully compatible with most DSLR cameras, making this product a perfect choice for videography and vlogging. This feature pairs high-quality video content with exceptional audio from your camera and microphone team.
3.5mm Jack
With a 3.5mm port and cable, this device is able to work with any device that sports the same feature. This can be found in most smartphones, laptops, camcorders, tablets, and cameras, meaning that this microphone will work with a range of devices that you will, most likely, already own.
---
Specifications
| | |
| --- | --- |
| Brand | Boya |
| Model  | BY-WM8 Pro-K2 |
| Polar Pattern  | Omnidirectional  |
| Power Supply  | 2xAA batteries (not included)  |
| Audio Output level | -60dBv |
| Net Weight | 90g (without batteries) |
| Operation Time | 4 hours |
| Colour | Black  |
---

Lencarta In House Repair Centre
At Lencarta, we know how important it is to provide the best after care and customer service. That is why we are proud to boast our very own in-house UK repair centre that is available to anyone needing a repair. FeiyuTech products bought from us come with a 2 year warranty included! Find out more here.
Question and Answer
No Questions
Delivery Information
Lencarta makes every effort to get your order to you as soon as possible. Regular orders for in-stock items placed on business days before 3:00 PM and dispatch the same day.
UK Delivery Summary
| Shipping Option | £0.00 - £49.99 | £50.00 - £149.99 | £150.00+ |
| --- | --- | --- | --- |
| UK Standard 2-3 Working Days | £4.99 | £2.99 | FREE |
| UK Next Working Day | £7.99 | £5.99 | £4.99 |
| UK Next Working Day Pre-11am | £14.99 | £17.99 | £14.99 |
| UK Saturday Delivery | £21.99 | £24.99 | £21.99 |
---
International Delivery Summary
Shipping Option
£0.00 - £49.99
£50.00 - £149.99
£150.00+
International Standard Delivery
£18.99
£21.99
£18.99
International Expedited Delivery
£25.99
£28.99
£25.99
International Air Delivery
£41.99
£47.99
£41.99
Order processing and more.., click here.
---
Returns
Any item may be returned within a 30 day returns period, starting from the day the goods are marked as 'delivered' by Lencarta's courier. Any and all goods must be as new and in a fully working, saleable condition. For Exchange queries, please get in contact with a member of our fantastic team who can help you!
For more informations about Returns, please click here.