Boya BY-WM3U Android Wireless Microphone System
Special Price
£96.00
you save: £13 (12%)
Regular Price
£109.00
Fastest delivery: 26 September, 2022 (Monday)

Standard delivery: 28 September, 2022 (Wednesday)
Same day dispatch on all orders placed before 03:00 PM Mon-Fri. (*Excluding UK Public/Bank/Festival holidays.)

BOYA BY-WM3U 2.4Ghz Wireless Microphone System
The BOYA BY-WM3U is an easy-to-use, digital, true-wireless microphone system! This kit is designed to capture clear and intelligible speech and transfer the audio to a range of devices such as your Android phone/tablet, DSLR/mirrorless camera, or any smartphone/tablet equipped with a headphone jack (for a microphone that is compatible with Apple's IOS devices, look at the BY-WM3D).
This microphone is ideal for YouTubers, Live Streamers, Instagram Creators, Twitch, Tiktok, Vloggers, Journalists, and many more. With a microphone built inside the clip-on transmitter and a compact receiver that plugs directly into your recording device, the system delivers a cable-free experience with no wires or bodypack required. This allows complete freedom for movement in streaming, performances, demonstrations, and presentations. With the small build of the transmitter, you can keep hold of it in your hand, clip it to clothing, slide it into a shirt pocket, etc. This enables you to also position the microphone within a good range of the speaker's mouth to deliver great sound quality compared to the built-in microphones on mobile devices and DSLRs.
The BY-WM3U is easy to use regardless of their level of experience. Once it is removed from the included charging case, plugged in, and powered on, the microphone is all set up! The system delivers reliable transmission with a distance up to 65' for up to 4.5 hours usage time from one charge! The included charging case is able to charge both the transmitter and receiver at the same time!
---
Who is this perfect for?
 It is ideal for YouTubers, Live Streamers, Instagram Creators, Twitch, Tiktok, Vloggers, Journalists, and many more.  
---
The Main Features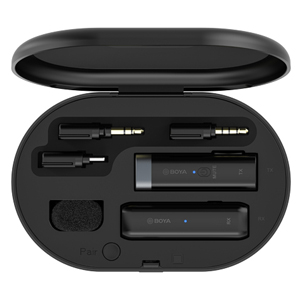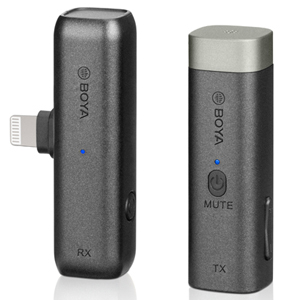 Compact Build
The BY-WM3U is a compact and lightweight solution to audio capture! Both transmitter and receiver fit neatly into the palm of your hand or any pocket. This means that neither you nor your work is tied down by bulky equipment! The wireless nature of both units also means that wiring and bodypacks are a worry of the past! 
Versatile Charging Case
The charging case recharges both receiver and transmitter at the same time, just place them in their cradles inside the charging case, and connect the case to a USB power with the included USB charging cable. The fast-charging case that features a 1000mAh rechargeable battery, recharges both the receiver and transmitter in just 2 hours. This full charge provides 4.5 hours of recording time! 
Compatibility | Android | DSLR
Compatible with Android phone/tablet, DSLR/mirrorless camera, or any smartphone/tablet equipped with a headphone jack. The BY-WM3U comes with everything necessary to record clear-sounding speech in any location. The miniature plug-in receiver comes with a set of three audio adapters, allowing you to connect it to virtually any recording device—no cables or clips required. It also comes with a furry windshield and foam windscreen to reduce wind noise when in use outdoors.
---
Specifications 
 Transmission Type:
 2.4GHz
 Polar Pattern:
 Omnidirectional
 Frequency Response:
 20Hz-20KHz (±3dB)
 Distortion:
 <0.1%
 Sampling Rates:
 48kHz
 Bit Depth:
 16Bit
 Signal-to noise ratio:
 75db or more
 Sensitivity:
 -42dB±3dB 
 Operating Distance:
 20m(without obstacle)
 Power Consumption:
 TX: 80mW RX: 60mW
 Working Time:

 TX: 4.5 hours * two times

 RX: 8 hours * two times

 Charing Time:

 TX:2 hours
  RX:2 hours

 Charging Case:2 hours

 Charging Port(Charging Case):
 Type-C
 Battery Capacity:

 TX:100mA
 RX:100mA

 Charging Case:1000mA

 Size:
  Charging  Case:120*77*30.5m(4.7*3*1.2")
  TX:51.8*15.6*18mm(2*0.6*0.7")
   RX:54*15.6*15.6mm(2*0.6*0.6")
 Weight:

 TX+RX+Charging Case: 129g (4.5 oz)

 TX:10.5g (0. 37 oz) RX:9.5g (0. 33 oz)
---

Lencarta In House Repair Centre
At Lencarta, we know how important it is to provide the best after-care and customer service. That is why we are proud to boast our very own in-house UK repair centre that is available to anyone needing a repair. FeiyuTech products bought from us come with a 2 year warranty included! Find out more here.
• Charging Case
• Clip-on Minature Transmitter
• Professional Compact Receiver
• Type-C Adapter
• 3.5mm TRS Adapter
• 3.5mm TRRS Adapter
• Foam Windshield
• Fur windscreen
• 30cm/11.8"Type-C to USB-A Charging Cable
Question and Answer
No Questions
Delivery Information
Lencarta makes every effort to get your order to you as soon as possible. Regular orders for in-stock items placed on business days before 3:00 PM and dispatch the same day.
UK Delivery Summary
| Shipping Option | £0.00 - £49.99 | £50.00 - £149.99 | £150.00+ |
| --- | --- | --- | --- |
| UK Standard 2-3 Working Days | £4.99 | £2.99 | FREE |
| UK Next Working Day | £7.99 | £5.99 | £4.99 |
| UK Next Working Day Pre-11am | £14.99 | £17.99 | £14.99 |
| UK Saturday Delivery | £21.99 | £24.99 | £21.99 |
---
International Delivery Summary
Shipping Option
£0.00 - £49.99
£50.00 - £149.99
£150.00+
International Standard Delivery
£18.99
£21.99
£18.99
International Expedited Delivery
£25.99
£28.99
£25.99
International Air Delivery
£41.99
£47.99
£41.99
Order processing and more.., click here.
---
Returns
Any item may be returned within a 30 day returns period, starting from the day the goods are marked as 'delivered' by Lencarta's courier. Any and all goods must be as new and in a fully working, saleable condition. For Exchange queries, please get in contact with a member of our fantastic team who can help you!
For more informations about Returns, please click here.