Fastest delivery: 19 May, 2022 (Thursday)

Standard delivery: 23 May, 2022 (Monday)
Same day dispatch on all orders placed before 03:00 PM Mon-Fri. (*Excluding UK Public/Bank/Festival holidays.)
PLEASE NOTE: Please be careful when you open the background, as it may pop up quickly
Double sided with both Chromakey green and blue, This double sided background is the professional solution for vlogging, videography, photography, streaming and more! Key yourself or others out of the background and add any other backdrop of your choice, which can either be a scene that you have shot, or one of the thousands of digital backgrounds that are available.
Size: 150x200cm
Colour: Green and Blue
Material: Cotton Muslin
Carry Bag Included: Yes
Light Stand Included: Yes
Background Light Stand folding background 150x200cm Reversible Blue and Green Chromakey Pop Up Background with 265cm Lightweight Patented Light Stand by Lencarta

Reversible Blue & Green Screen Background With Stand Support | 150 x 200cm
PLEASE NOTE: Please be careful when you open the background, as it may pop up quickly.
This double sided Chromakey background is the professional solution for both video and photography when you want to cut your subject out of the background and add any other background of your choice, which can either be a scene that you've shot, or one of the thousands of digital backgrounds that are available. This choice of colour is key for those needing a background that offers high constrast to the subject in focus. As an example, if your subject is wearing a blue shirt, you need the green side and vice-versa. This large 1.5m x 2m folding background is perfect for headshots, 3/4 shots and wide enough for a couple or even a small group, when turned sideways. This easy to set up Reversible Blue Blue and Green Background is perfect for removing those busy backgrounds with a simple solution.
The blue and green chromakey background is printed on a

 wrinkle resistant material

, and is ready to use straight from the bag.
The background is easy to store away and 

folds up into one third 

of it's original size when not in use.
The background features 

metal O-Rings

 for hanging which means the fabric will not rip due to undue pressure.
A 

stand 

for the pop up background is 

included

.
---
Who is this perfect for?
Perfect for Youtubers, Streamers, Home Workers, Home Schoolers and more. The easy to set up Reversible Blue and Green Background is perfect for removing those busy backgrounds with a simple solution.
Perfect for people who:
Film for Youtube, Streamers, Home Workers, Home Schoolers, etc.
Want a quick and easy set up
Want to get rid of busy backgrounds
---
The Main Features
Streaming and Gaming
The foldable green and blue chromakey green screen is perfect for someone who is looking for the best set up for their chosen platform. By purchasing a green screen, you increase the quality of your stream and lessen the chances of viewer retention.
Professional Portraits
The background allows for the opportunity to add some flavor to your portrait photography or videography. Need that perfect shot for your movie or portfolio? Not a worry, with the green and blue folding background, you are able to capture whatever setting you want with the most convenience!
Conference Calls
With many choosing to work at home, don't let busy backgrounds be your enemy! With this greenscreen, you can show your colleagues you mean business when going in for an interview or sitting down for that important meeting in the comfortability of your own home. This shows confidence and self commitment.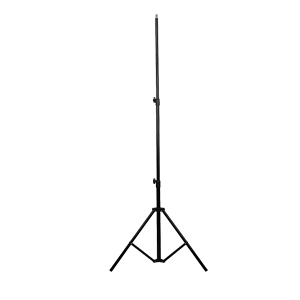 Included Patented Light Stand
As well as being constructed with a strong yet light aluminium alloy, the 65cm footprint provides extra stability whilst not taking up too much floor space, protecting your equipment from damage or falling.
Large Size
The larger sized background is perfect when paired with a stand or up against a wall to eliminate all background interference. Never worry about the edges of the background being in shot as this large backdrop will surely have you covered!
Metal O-Rings
The hanging loops are fitted with a metal O-ring to secure the background to anything. The metal rings protect the loops from tears and extend the durability and life of the product.
---
Lencarta In House Repair Centre
At Lencarta, we know how important it is to provide the best after care and customer service. That is why we are proud to boast our very own in-house UK repair centre that is available to anyone needing a repair. FeiyuTech products bought from us come with a 2 year warranty included! Find out more here.
Customer Questions
Can I use a ring light for newborn photography?
Yes, ring lights are great for newborn photography as they are super easy to use and can work with any camera including a smartphone
Can I do newborn photography at my house?
Yes, you can do lots of newborn photography in your home. One of the benefits is you will already have lots of gifts and outfits from family and friends so will have an unlimited amount of props to use!
What lighting equipment is best for my smartphone?
You can use any continuous lighting in our store, but it depends on your budget. If you are wanting something less expensive then our ring lights are great for quick and easy solutions. More powerful continuous lighting is fine for older babies, but can be too bright for newborns.
Do I need a lot of power in my lighting?
You can use both natural lighting when shooting at home and fill this with a little bit of continuous lighting to help create a natural lighting effect. You don't need powerful lighting but if it's very bright outdoors it can help to pull the curtains.
What is the best ring light for Newborn photography on a budget?
We have our own 10-inch ring light which is perfect for newborn photography and smartphones. These also come with small stands which are great as normally you want your newborn to be close to the floor for safety reasons.
How many lights do I need?
It really depends on the situation and how much natural light you want to use. In most cases, one light source will be enough for your newborn shots however if you have 2 lights this can produce more creative lighting effects.
Delivery Information
Lencarta makes every effort to get your order to you as soon as possible. Regular orders for in-stock items placed on business days before 3:00 PM and dispatch the same day.
UK Delivery Summary
| | | | |
| --- | --- | --- | --- |
| Shipping Option | £0.00 - £49.99 | £50.00 - £149.99 | £150.00+ |
| UK Standard 2-3 Working Days | £4.99 | £2.99 | FREE |
| UK Next Working Day | £7.99 | £5.99 | £4.99 |
| UK Next Working Day Pre-11am | £14.99 | £17.99 | £14.99 |
| UK Saturday Delivery | £21.99 | £24.99 | £21.99 |
---
International Delivery Summary
Shipping Option
£0.00 - £49.99
£50.00 - £149.99
£150.00+
International Standard Delivery
£18.99
£21.99
£18.99
International Expedited Delivery
£25.99
£28.99
£25.99
International Air Delivery
£41.99
£47.99
£41.99
Order processing and more.., click here.
---
Returns
Any item may be returned within a 30 day returns period, starting from the day the goods are marked as 'delivered' by Lencarta's courier. Any and all goods must be as new and in a fully working, saleable condition. For Exchange queries, please get in contact with a member of our fantastic team who can help you!
For more informations about Returns, please click here.